Back in January I did a post for Top Ten Tuesday about the
Top Ten Bookish Things I Need to Have
. Now that Christmas is approaching I've gone back to it as possible gift ideas or stocking stuffers. I thought I would try that again. It's sometimes a little difficult choosing a book to gift a book lover. It might not be a book they're interested in or they might have already read it, so why not get them something book related.
This post will focus on the items you can give as gifts. I've also separated them into two categories items under $25 and items ranging from $25 to $50. The prices I've listed might not be the same as when you're reading this, so make sure to click on the picture to go to the item page to check out the current details.



UNDER $25
Hermione Granger Funko Pop | B&N | $8.95
There are also many of the other characters from the Harry Potter series as well as other book to screen characters like the ones from Outlander.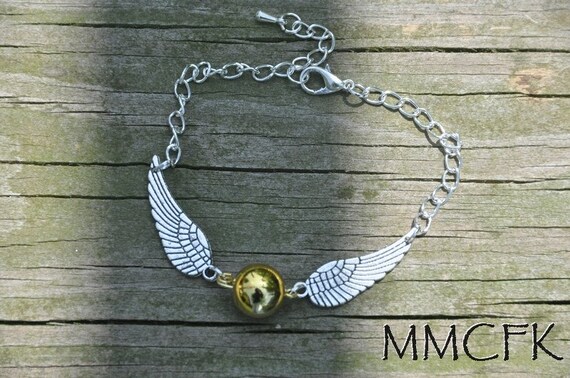 Gold Snitch Ball Bracelet | MMCFK on Etsy | $8.99
MMCFK is a shop that I love on Etsy that makes jewelry inspired by various fandoms like Once Upon A Time, The Mortal Instruments, and Harry Potter. My favorite part of ordering from this shop is that you get a free gift with every purchase. I bought a necklace for my sister a couple months back and I got a Divergent charm bracelet.



Strand Books Water Bottle | The Strand | $9.95
Even if you don't live near New York City you can still order merchandise from one of the most popular bookstores.
Book Hangover Definition Mug | Look Human | $19
Any book lover can relate to this, and if you like the graphics but aren't too fond of mugs you can also get this printed on anything from a tote bag to a hoodie.
Well Read Woman Tote | The Strand | $18.95
This is also from The Strand. They have an assortment of tote bags, but this one is one of my favorites.
UNDER $50
Brilliant and Book Obsessed Tee | Look Human | $28
Not only is this a great gift for a book lover, but a great compliment as well.
Throne of Glass Lithograph Poster 24x36 | Litographs | $29
This is one of the cooler items on this list. Litographs creates designs with the actual text from the book the design is based off of. Aside from getting the design printed on posters, there are also t-shirts and totes (Note: The totes won't ship out in time for Christmas). Gifting in a frame would make this a bit more special.
Pressed Wildflowers Book Pillow | Look Human | $34
As you can probably tell by now Look Human has a ton of bookish related items. This is one of my favorite items, because it has a great design printed on it while at the same time bookish.
Book Club (Fight Club Parody) | Look Human | $44
This design caught my attention when I was scrolling through Look Human. It takes an iconic movie poster and books and puts it together. This would be a great gift idea for someone who loves books and movies just as much.
Harry Potter Wizard Chess | B&N | $44.95
For the bookish fan who seems to have everything. Board games area great present for the holidays, but a book related book game is even better. This one is great because anybody can play it even if they haven't read Harry Potter.

What do you think? Will you be asking for any of these items or gifting them?
Check back next week for stocking stuffer ideas and also a recipe inspired by Simon vs the Homo Sapiens Agenda that you can make for the holidays!