Last week I posted
10 Bookish Gift Ideas Under $50
, and this week it's time for stocking stuffers. The other post was meant for any holiday, but this one is geared more towards Christmas because I tried to pick out bookish items that are small enough for stockings. That doesn't mean that it's only for stocking. Some of these items can be given as gifts as well.
I wanted to put this up earlier because some of the items are from online stores. Remember to click on the picture to check out further details.
Magnetic Bookmarks | Barnes and Noble | $4.95
There are so many cute magnetic bookmarks. I love this lunch themed ones from Barnes and Noble. They are super inexpensive, and you can never have enough bookmarks.
Mortal Necklace | The Geeky Cauldron | $8
I love the jewelry from The Geeky Cauldron. There are other book themed jewelry items like charm bracelets and earrings. I also really liked this
Camp Half Blood necklace
.
Hogwart Houses Lanyard | Hot Topic | $8.50
They also have Gryffindor and Slytherin lanyards on the website. You might want to check your local Hot Topic if they have any others.
Golden Snitch Keychain | Hot Topic | $8.50
Keeping with the Harry Potter theme. Last weeks post had the bracelet version of this.
Walden Book Tattoo | Litographs | $5 (Set of Two)
Last week I posted one of the Litograph posters. They also make cool tattoos of book quotes. There are other designs, but this one was my favorite because of the quote.
Alice Cutout Mirror | Hot Topic | $7.50
I might have to get this for myself. I love the design of it.
LOTR The One Ring Keychain | Hot Topic | $9.50
Another item from Hot Topic! They do a great job of carrying fandom items.
Keep Calm and Carry On Simon Sticker | 4EverYA (Redbubble) | $6 (Medium)
This
Fangirl
/
Carry On
sticker would look pretty cool on a laptop. It comes in four different sizes. The prices vary based on what size you want. Redbubble is like Society6 and Look Human where you can get the same graphic on a bunch of different items.
Paper Towns Rubber Bracelet | Hot Topic | $7
For that John Green fan. I use to love wearing these kind of rubber bracelets when I was younger. If you're not really into these, there are also other Paper Town bracelets for around the same price.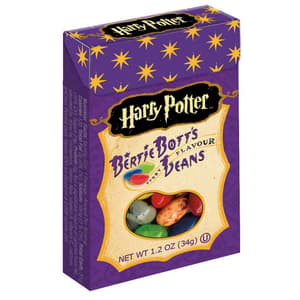 Bertie Bott's Every Flavour Beans | Jelly Belly | $2.25
Candy makes the perfect stocking stuffer. You can find these in many stores like Target and Wal-Mart. Don't forget to check for
chocolate frogs
.
Which of these bookish stocking stuffers do you want to see in your stocking this year?