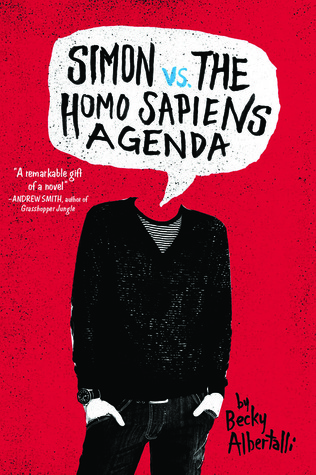 Author: Becky Albertalli
Published: April 7th, 2015 (Balzer + Bray)
Genre: Contemporary, LGBT, Romance, YA
Source: Library
Sixteen-year-old and not-so-openly gay Simon Spier prefers to save his drama for the school musical. But when an email falls into the wrong hands, his secret is at risk of being thrust into the spotlight. Now Simon is actually being blackmailed: if he doesn't play wingman for class clown Martin, his sexual identity will become everyone's business. Worse, the privacy of Blue, the pen name of the boy he's been emailing, will be compromised.




With some messy dynamics emerging in his once tight-knit group of friends, and his email correspondence with Blue growing more flirtatious every day, Simon's junior year has suddenly gotten all kinds of complicated. Now, change-averse Simon has to find a way to step out of his comfort zone before he's pushed out—without alienating his friends, compromising himself, or fumbling a shot at happiness with the most confusing, adorable guy he's never met.
This was my first LGBTQ novel. I knew nothing about it besides that before reading it, and I honestly didn't really know what to expect. What helped ease me into the story were the characters. The most important part of a book for me is always the characters. Even if there is not much of a plot, the characters will usually carry the story and keep me interested. Aside from the characters, I really liked not knowing who Blue was. I had my guesses, but in the end I was completely wrong.
I don't know if this has been adressed already, but I kept wondering why Tumblr kept being referred to as "the Tumblr." It wasn't a big deal to me, but once in a while it would throw me off. That is the most negative thing I can come up with, and it's really not even a bad thing. The feelings this book gave me in the end make me wish more books like this were out there. One of my favorite reads this year so far.