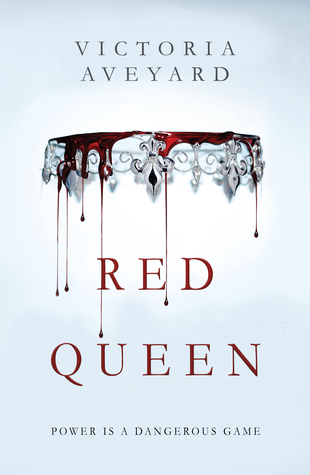 Author: Victoria Aveyard
Published: February 10, 2015 (HarperTeen)
Genre: Dystopian, Fantasy
Source: Purchased copy
MARE BARROW'S WORLD IS DIVIDED BY BLOOD—those with red and those with silver. Mare and her family are lowly Reds, destined to serve the Silver elite whose supernatural abilities make them nearly gods. Mare steals what she can to help her family survive, but when her best friend is conscripted into the army she gambles everything to win his freedom. A twist of fate leads her to the royal palace itself, where, in front of the king and all his nobles, she discovers a power of her own—an ability she didn't know she had. Except... her blood is Red.




To hide this impossibility, the king forces her into the role of a lost Silver princess and betroths her to one of his own sons. As mare is drawn further into the Silver world, she risks her new position to aid the Scarlet Guard—the leaders of a Red rebellion. Her actions put into motion a deadly and violent dance, pitting prince against prince—and Mare against her own heart. [Goodreads]
When I first saw this book I was under the impression that it was a fantasy. Then when I finally got the book I noticed there was no map. It's not a requirement for fantasy novels, but it's pretty much expected. A few pages into the book there were descriptions of technological objects which threw me off. The more I read Red Queen I realized that this was more of a dystopian.
Red Queen was an interesting take on the dystopian genre because it included fantasy elements. It was a different style of the genre that has been done so many times because of the success of The Hunger Games. That being said, that's where the originality seemed to stop. There were moments where I felt like I had already read this story. At first I thought that Red Queen was filled with many of the typical YA characteristics, but the more I read it the more it felt like I was reading another version of The Hunger Games and even Shadow and Bone. With so many young adult novels being published it can be hard to find a YA novel where there aren't some of the same themes. I found myself pointing out specific lines and moments that I could find in these other YA novels. When I got around page 240 I felt like the story began to pick up and take a path of its own, but it didn't get very far until it reverted back to the Hunger Games-like story line.
What I did like about Red Queen was the writing, and certain characters like Maven, Lucas, and Julian were interesting enough that kept the story and the excitement going for me. I ended up giving it three out of five stars because of the writing and characters. Had those two factors not been as strong I could have possibly given this book one star. I'm hoping the next book will steer clear from this storyline that has already been done.