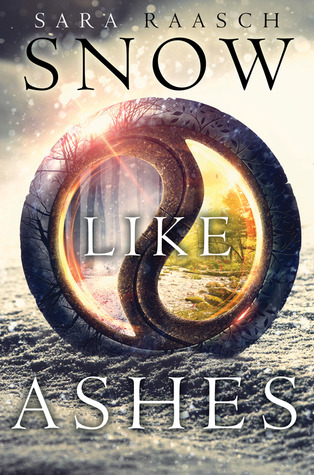 Snow Like Ashes
(Snow Like Ashes Trilogy, #1)
Author: Sara Raasch
Published: October 14, 2014 (Balzer + Bray)
Genre: Fantasy, Romance, Magic
Source: Library
Sixteen years ago the Kingdom of Winter was conquered and its citizens enslaved, leaving them without magic or a monarch. Now, the Winterians' only hope for freedom is the eight survivors who managed to escape, and who have been waiting for the opportunity to steal back Winter's magic and rebuild the kingdom ever since.




Orphaned as an infant during Winter's defeat, Meira has lived her whole life as a refugee, raised by the Winterians' general, Sir. Training to be a warrior—and desperately in love with her best friend, and future king, Mather — she would do anything to help her kingdom rise to power again.




So when scouts discover the location of the ancient locket that can restore Winter's magic, Meira decides to go after it herself. Finally, she's scaling towers, fighting enemy soldiers, and serving her kingdom just as she's always dreamed she would. But the mission doesn't go as planned, and Meira soon finds herself thrust into a world of evil magic and dangerous politics – and ultimately comes to realize that her destiny is not, never has been, her own. [

Goodreads

]
I had originally seen this book on Epic Read's ARC party last year. I was immediately fascinated with the cover design, and I was hoping that the inside would match the great cover.
The kingdoms, based on the seasons, were easy to imagine. The people of each kingdom are described according to the colors that would be typically associated with the seasons. The people of winter, for example, have white hair, pale skin, and blue eyes.
I loved Meira. She doesn't depend on the men that are around her, and even gets angry at one point when she realizes that men have controlled so much in her life. Meira wants to do anything she can to help Winter. She wants to matter in the Winterian's pursuit to regain their kingdom. At times Meira reminded me of Katniss from the Hunger Games. They have a similar determination and focus, which I really enjoyed. In some of the books that I've been reading lately, I don't really care for the main female's cause. A lot of the time they lack that fight that I remember Katniss having.
Basically, Meira is a kickass female character who doesn't care if you're a prince or evil magical being. She will take you down with her awesome chakram.
THE CHAKRAM! Forget bows and arrows, it is all about the chakram. It definitely brings back the Xena Warrior Princess memories. (I used to love watching that show when I was little, along with Barney & Friends. Great selections.)
The romance. It started off with just one guy, then later on another love interest is introduced. So, yeah, a love triangle. I thought I had avoided this and then there was Theron. It's really not that big of a deal in the sense that Meira isn't doing things because of these two guys. In a lot of other YA books with the love triangle, the main female makes her decisions with the love interests in mind. Meira is a character that cares more about the people of Winter than a boyfriend. I found myself liking Theron more than Mather, but I refuse to pick a "team."
The magic. I liked the story that Meira later learns about the magic and the conduits. The magic in this book centers around a conduit that each kingdom possesses. Magic is seen more towards the end of the book, when it becomes more of the focus. The story almost reminded of a dystopian novel. I found myself comparing it to books such as Divergent, and The Hunger Games. I'm hoping the magical elements are used more in the second book now that everything has been established.
Although so much happens in Snow Like Ashes, it feels like things are only just getting started, and I'm definitely excited for the second book in the trilogy,
Ice Like Fire
.